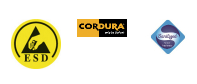 HYDRO-DRY BUSINESS SOCKS
The perfect sock in combination with our business shoe for a comfortable feeling. This sock has extra conductive properties, ESD.* Available in sizes 35 – 50.
34% COTTON
31% POLYESTER (Coolmax)
27% POLYAMIDE
6% POLYAMIDE (CORDURA)
2% ELASTOMER (LYCRA)
4-channel Coolmax® transports moisture instantly – step by step.
Cordura® reinforces and strengthens the socks, extending their lifespan.
Sanitized kills bacteria and odour.
Quick drying – in and out of the shoe.
Wear with EMMA shoes for the driest, condurefreshest  feet.